The Asset announced Asset Benchmark Research "Top five investment houses in Asian local currency bonds for 2017" recently. China Life Franklin Asset Management Co., Ltd. (hereinafter referred to as "China Life Franklin"), together with HSBC Global Asset Management, Manulife Asset Management, Allianz Global Investors, Pine Bridge Investments Asia, is listed among the Top five investment houses in Hong Kong. China Life Franklin won the second place.
In June 2017, the Company made a breakthrough of HKD200 billion AUM, ranking first among Chinese-background asset managers in Hong Kong. With over HKD150 billion bond investment covering over 20 countries and regions, the Company is one of the most influential institutional investors in the Asian credit market.
The highly professional fixed income team in China Life Franklin guarantees a competitive advantage in Hong Kong market. Bond managers have on average 15+ years of industry experience, and they have delivered an exceptional investment return and are recognized by multiple awards.
The Asset magazine was founded in 1999. The review was conducted annually through scoring and interviews. This year, the survey covers over 300 local and regional institutions including asset managers, insurance companies, banks, securities firms, etc. The Company won this award shows that its fixed income investment business is widely recognized by financial institutions and medias.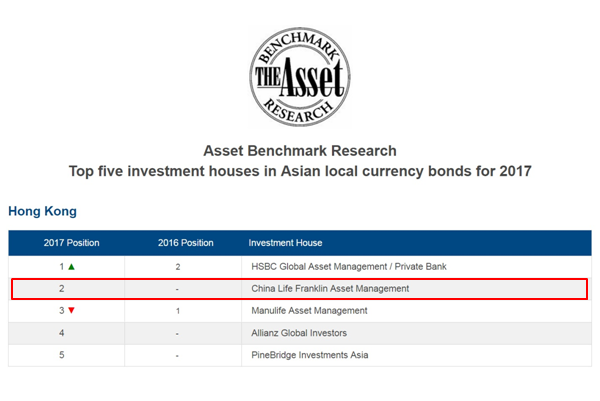 Related link as follows: https://www.theasset.com/awards/acb-2017-investment-houses